Piezoelectric Ultrasonic System- Call for pricing
OE-F15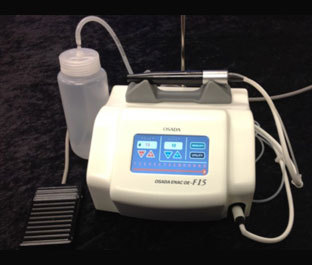 Piezoelectric Ultrasonic System / Handpiece with Serrated tip - CALL FOR PRICING
The ergonomically designed SE15 handpiece stays cool and illuminates the surgical area. The simultaneous irrigation (with peristaltic pump) minimizes termperature increase on the attachment tips and the surgical sites.
OE-F15 POWER CONSOLE complete with peristaltic irrigation pump, irrigation tubing for the pump through the handpiece and reservoir bottle with cap assembly, hanging rod with adaptor needles, a detachable power cord and an autoclavable Handpiece Holder.
SE15 LED illuminated autoclavable HANDPIECE;
A Detachable autoclavable HANDPIECE HOSE ASSEMBLY with quick-disconnect handpiece coupler and connector;
A Detachable Waterproof FOOTSWITCH with cable & connector
Warranty Notices and Disclaimers
Electric Handpiece Systems and related accessory units are warranted to the original purchaser for defects in materials and workmanship for periods of one year for the Power Control Unit and Foot Controller, and six months for the Handpiece, Micromotor and Motorcord. If any such defect is discovered within the warranty period, Medco will repair or replace the products. This warranty does not apply to defects resulting from abuse, misuse, neglect, or accidental damage.
In all sales, the buyer and/or user assumes full responsibility for determining suitability for their application and for all risks and liability associated with use of Products.
All statements, information, and recommendations in literature are recommendations only and should be interpreted as such.
Models and Specifications are subject to change without notice.